The Advantage of King Brand® ColdCure® Wraps
With so many different cold wraps and ice packs on the market, what makes the King Brand® products so special? The secret to the success of the King Brand® wraps is the ColdCure® Gel inside. ColdCure® Therapy Wraps are better than ordinary ice packs in every way - the benefits are endless:
XC RigiGel® gel has more cold per pound, for colder and longer lasting treatments
ColdCure® packs are large with more gel per pack, providing more coverage for your ankle
XC RigiGel® is soft yet rigid. It stays in place no matter how hard you press on it
XC RigiGel® molds perfectly to the shape of your ankle for a perfect fit
XC RigiGel® targets the pain by moving cold from the whole pack to target the injured area
The soft, comfortable neoprene Ankle Wrap offers amazing cold plus compression
ColdCure® Ankle Ice Packs are FDA registered Class I Medical Devices - that's serious!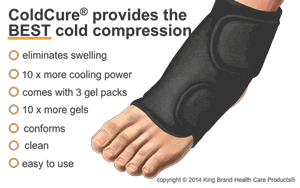 How much better can a ColdCure® Therapy Wrap be for your ankle injury? You will be amazed. It fits better, lasts longer, stays colder, works faster, targets pain better and is made of ultra safe materials. You can be sure that a King Brand® cold compression wrap with ColdCure® technology is far superior to any other product on the market in many, many ways. Start feeling better today.
Click here for more about ColdCure®!
Two Different ColdCure® Ankle Wraps for Your Specific Needs
We have 2 different ColdCure® Cold Therapy Ankle Wraps that are designed for your specific ankle injuries and conditions. Each one targets a different area of your ankle to provide you with the best treatment possible.
The Achilles Wrap
The wrap covers the back of your ankle and is designed to treat Achilles Tendonitis and other Achilles Tendon injuries. The wrap molds the gel pack all the way up the back of your ankle to target your Achilles. This ensures there is an even distribution of cooling power over the injured area for the best pain and swelling relief.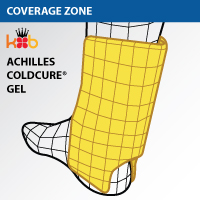 Click here to learn more!
The Ankle Wrap
The wrap covers the front and sides of your ankle and is designed to treat Ankle Sprains, Peroneal Tendonitis, Tibialis Anterior Tendonitis, and Extensor Tendonitis. The wrap and gel pack are custom designed to mold around the top and down the sides of your ankle for maximum coverage of your injury.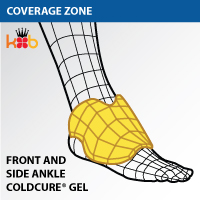 Click here to learn more!
If you're unsure about which Ankle Wrap is right for you, please feel free to contact us. One of our knowledgeable King Brand® Advisors can help you.
Cold Compression Means Maximum Relief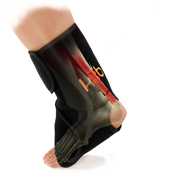 The ColdCure® Achilles Ankle and Ankle Ice Packs provide firm, even compression for superior treatment of pain and swelling. The wrap applies targeted compression to the injured area with no gaps in pressure. To be as effective as possible, the compression needs to be uniform and complete, and the ColdCure® Achilles Ankle and Ankle Wraps provide exactly that.
The Ankle wrap is soft and stretchy, making it easy to apply and adjust. Both the wrap and the gel packs are specially designed for the shape of your ankle. The wrap can be worn without the gel inside as a support for your injury while you're not receiving treatments. The wrap is incredibly comfortable to wear.
For more a more in-depth explanation of the functions of these cold packs, we recommend browsing the ColdCure® website page about ankle injuries.
Click here for more about these products!
Tons of RigiGel® Makes Tons of Difference
The Walgreens factory tested our gel and found that pound for pound, our gel held over 3x more cold as the best gel they had to offer. The results were staggering.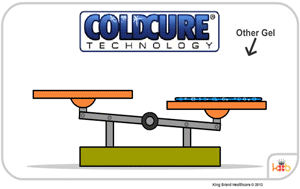 Not only do RigiGel® packs hold more cold, they also cover a larger area and contain more gel than standard cold packs. This makes a huge difference in the treatment you receive. Most traditional cold packs only contain a little bit of gel, because a gel pack with tons of gel is a lot more expensive to make. But if you really want to feel better and reduce your pain and swelling, a gel pack with tons of gel is exactly what you need. RigiGel® packs are the ultimate solution. A bigger pack with more gel inside means faster and more effective relief of your pain and swelling.
ColdCure® Achilles Ankle and Ankle Wraps each come included with 3 gel packs. This makes it easy for you to swap the gels in and out quickly to keep your therapy going. ColdCure® gel packs are large enough to cover your injury, but are never bulky. Our Achilles Ankle Wrap comes with 3 cold gel packs that weigh about 4lbs, and that's just the gel packs alone. Compare that to most other ice packs or cold wraps on the market that weigh less than 1 lb, including the wrap. In many cases, King Brand® wraps contain 10x more gel than other Ankle wraps or ice packs. That means maximum relief of pain and swelling and an overall superior treatment.
Click here for more about ColdCure®!
KB Basics™ Ankle & Achilles Products - Economical Choices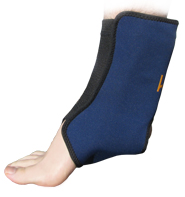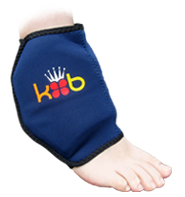 Above we discussed our top end Ankle and Achilles medical devices. This section is dedicated to our consumer products - the KB Basics™ Cold Pack.
Our KB Basics™ Ankle and Achilles Cold Packs are an affordable option for quick and convenient use. They slip on and off easily with no adjustment required. The Cold Packs are made of soft, light and breathable material, making them extremely comfortable to wear.
The wrap covers up the sides and over the top of your ankle. If you like cold, the Cold Pack is the product for you. It contains a sewn-in RigiGel®
KB Basics™ - Affordable Options
The KB Basics™ line of products are consumer goods, not FDA Registered medical devices like our BFST® and ColdCure® products. This is why the KB Basics™ product prices are lower. Although they're consumer goods, they're still better than regular consumer goods. This is because they're King Brand® quality.
Click here for more about these products!
Additional Reading and Links
Copyright 2011-2023 King Brand Healthcare Products® Limited. All Rights Reserved.
Meniscus Injury Treatment,
Muscle Injury Treatment,
Neck Injury Treatment,
Plantar Fasciitis Injury Treatment,
Shoulder Injury Treatment,
Tendon Injury Treatment,
Wrist Injury Treatment,
BFST Wraps,
Blood Flow Stimulation Medical Devices,
Blood Flow Stimulation Therapy,
Blood Flow Stimulation Wraps,
LCL Injury Treatment,
MCL Injury Treatment,
ACL Injury Treatment,
PCL Injury Treatment.
King Brand
®
ColdCure
®
Cold Therapy ice packs and gels are the best solution to your ankle soft tissue injury. King Brand
®
ColdCure
®
RigiGel
®
Ankle Wraps hold the cold longer, stay in place and are safer than any other product. Treat your ankle pain with King Brand
®
for the best results.